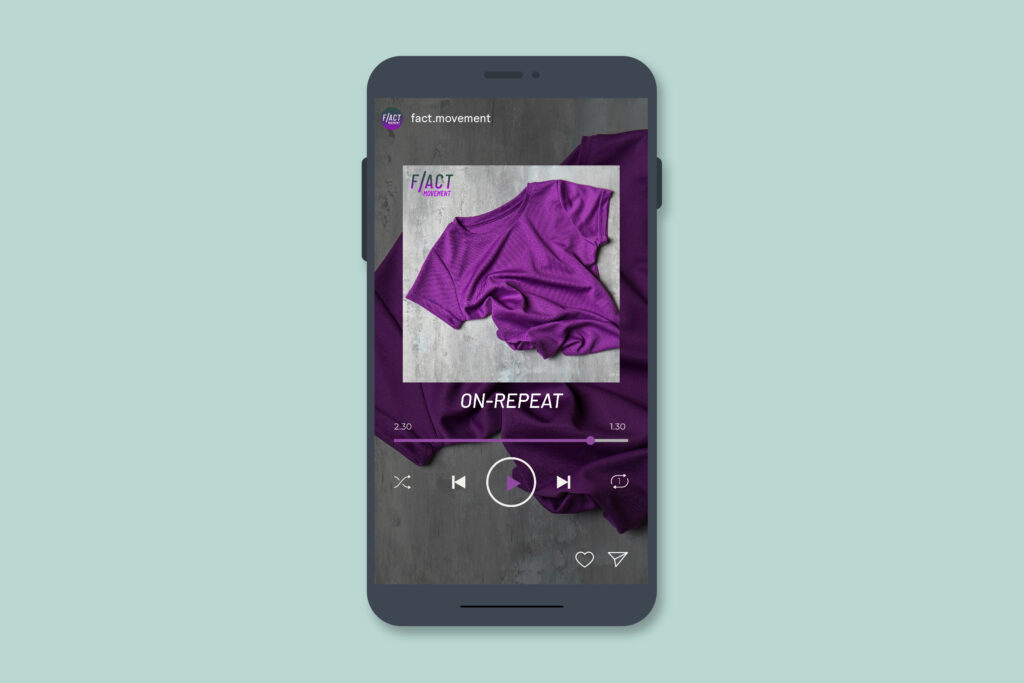 A research activity that was conducted with F/ACT Movements's Instagram community was presented by Jamila Juzer Siamwalla at The Finnish Academy of Marketing Annual Conference (FAMAC2023) held at The Aalto University School of Business, Finland. The participation, which was funded by the Swedish-Finnish Cultural Foundation, also sought to map similar activities for the future within the Swedish-Finnish context.
The F/ACT Movement is a project at Science Park Borås emphasizing sustainable fashion choices for consumers through social media and workshops. The research wing of F/ACT is a project titled, "Digital storytelling in social media prolongs the use of clothes"— that through activity research has initiated social media challenges on F/ACT's Instagram platform and encouraged the social media community to narrate on their use of their clothes. It is thereby to establish a relationship between fashion sustainability, digital storytelling through social media and community development.
Broadened international scope
However, the scope of F/ACT's activities within research and innovation is currently limited only to Sweden and the growing idea is now to expand its scope, beyond borders to "disseminate knowledge" through "cross-cultural engaging activities on social media"; so, as to have a wider impact on the sustainable consumption of clothes that is now interlaced worldwide with media consumption. Presentation and networking were deemed to be the key step, to take F/ACT's initiatives, internationally, and participating at FAMAC2023 was the first step to achieving this purpose.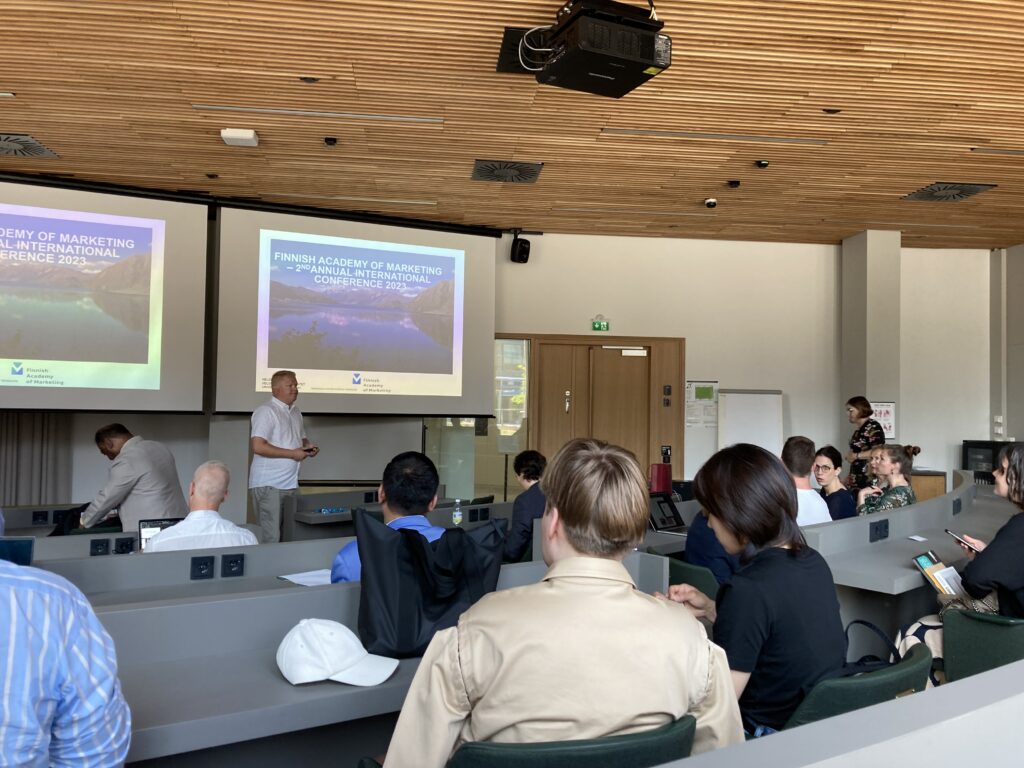 Further, Finland is a strong contributor to a growing body of academic knowledge on social media marketing and on sustainable wardrobe studies. Recently a Finnish research project on sustainable textile systems initiated #korjauhaaste, a hashtag challenge for participants to share stories on the repairs of one's garments, which was also similar to F/ACT's #weaveyourstory that was used to share stories of the use of clothing on Instagram.
The aligning activities show the opportunities that are present to embed the knowledge within F/ACT's future scope on academic-collaborative opportunities with Finland. It also opens pathways for the future of synergizing projects in social and fashion innovation through the support of Kulturfonden which fullfils the Fund's objective of increasing Swedish-Finnish cooperation.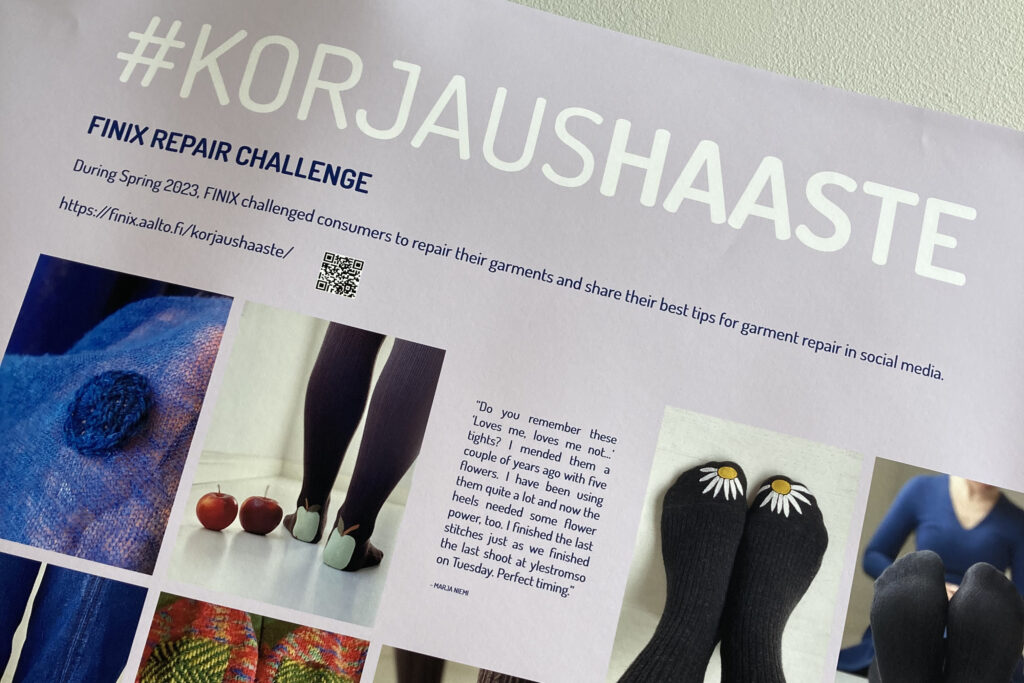 Activity aimed to increase user engagement with their clothes
The theme of FAMAC2023 was "Creating the Future of Marketing Science and Practice" and presenting one of F/ACT's research activities titled, "User-engagement on Instagram through 'Spotify-like Albums of Clothes'"— was the perfect opportunity to showcase the design of the distinctive research activity. The aim was to design an engaging challenge through F/ACT's Instagram, which was implemented through an experimental shift of user interface (from Spotify to Instagram) for the activity that created an element of excitement to engage and thereby reflect users/followers on their wardrobe.

Today, the increased use of social media has facilitated organisations to think in distinctive ways to communicate and market that are beyond the usual publishing of information through videos, images and text. Further, when it comes to organisations/initiatives that disseminate sustainability-related knowledge through social media such as F/ACT— consumer engagement and participation are significant for understanding the nature of knowledge. The following screenshots of influential Instagram handles show the different user interface formats used to design their Instagram post so to convey a message.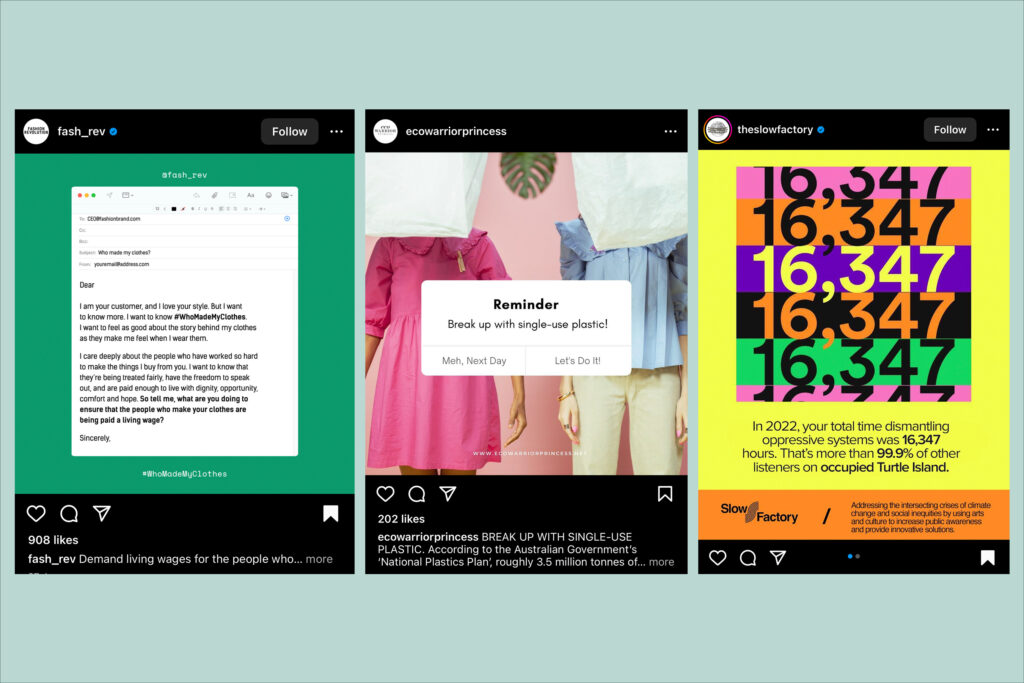 Borrowing interface from Spotify
The research activity also aimed to understand clothes that are worn repetitively and to eventually understand each other's intent and the care that wearers undertake for their clothing. By identifying the keywords of the purpose of the challenge, it was observed that "repetitive" with its literal meaning transcends its relationship to other objects/activities, other than clothes. One can repetitively eat candy, or one can repetitively listen to a song. The latter is well connected to the mass's relatability in current digital times through the music streaming app, Spotify; its user interface for song play was combined with F/ACT's graphic profile and used as a base structure for an Instagram story template.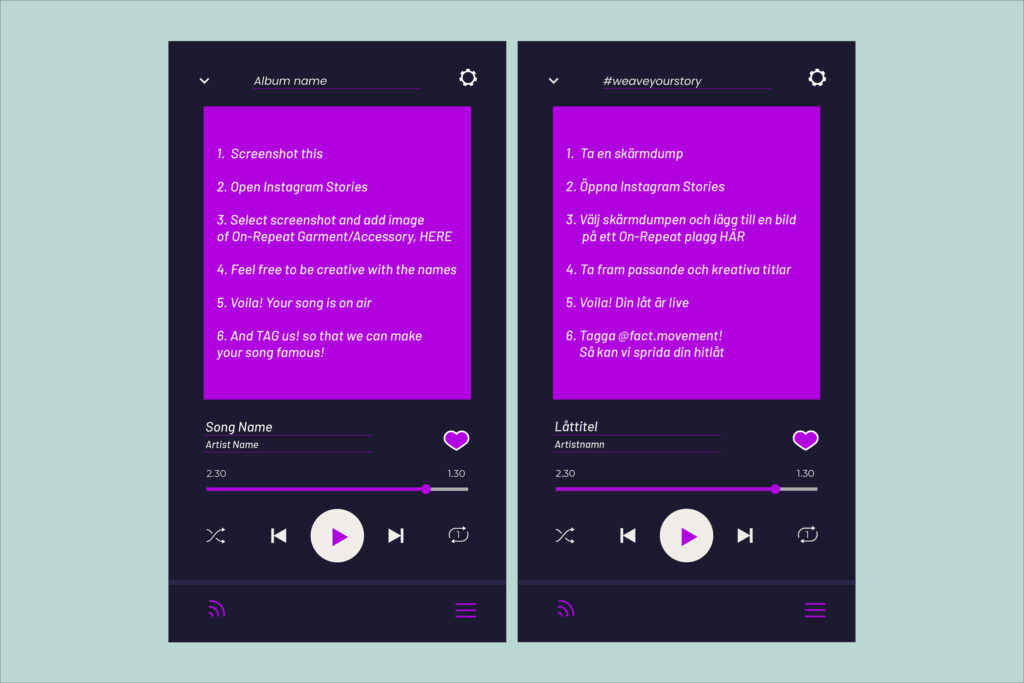 For the "ON-REPEAT" challenge, users could screenshot F/ACT's Instagram story; open the screenshot through their Instagram stories; paste their image/s of their on-repeat garment/s on the blank album space; write their name and a few words on their chosen garment in the space given to fill in the artist and album's name; and tag F/ACT and publish it to their Instagram stories.
From the Instagram stories that were received from F/ACT's Instagram community, it was noted that the experimental shift of user interface (from Spotify to Instagram) for the activity, created an element of excitement to engage and thereby reflect on their wardrobe. The blank spaces that were personalised by the user gave meaning to the template. And although the visual and the textual content becomes a part of the digital narrative, it showed the challenge as an act of engaging, reflecting and publishing on social media becomes a value-added story itself.
New opportunities for new messages
The shift and exchanges of established interfaces can thereby create an influence in marketing and the future of marketing (e.g., through AI-enabled prompts) in the ways information can be consumed and interacted with. This was especially relevant at FAMAC2023 where there were other ideas discussed on social media and its design processes that are the mediums towards user engagement. When there is a change in the design of a system, it can change not only how users interact with it physically but also determines its interpretation of the message.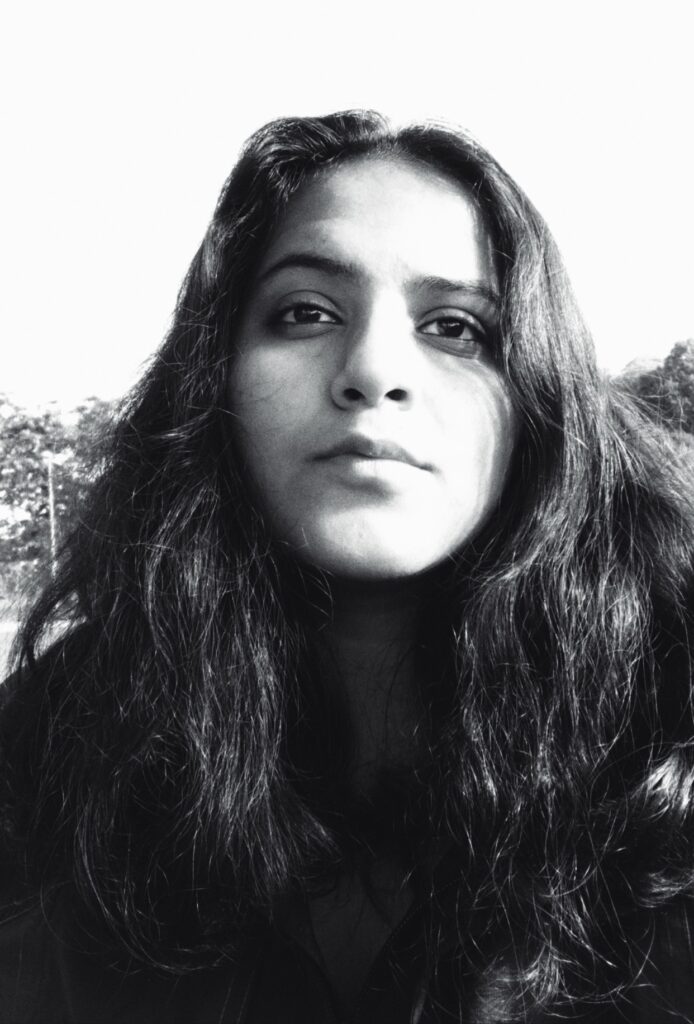 Text: Jamila Juzer Siamwalla, Research assistant at Science Park Borås
---
Read more
F/ACT Movement's research project on digital storytelling for clothes (in Swedish)